For every transaction you make using fiat, there's an opportunity to start onboarding more bitcoiners.
You can help the local business you already love and support to adopt a better savings and payments network.
You'll benefit by creating a bitcoin economy for your daily needs, and the merchant will have the security of a superior asset in their balance sheet.
Be patient, friendly, and recognize that a lot of merchants are not ready for the switch yet, but we have to start somewhere.
Join the conversation on Telegram or Github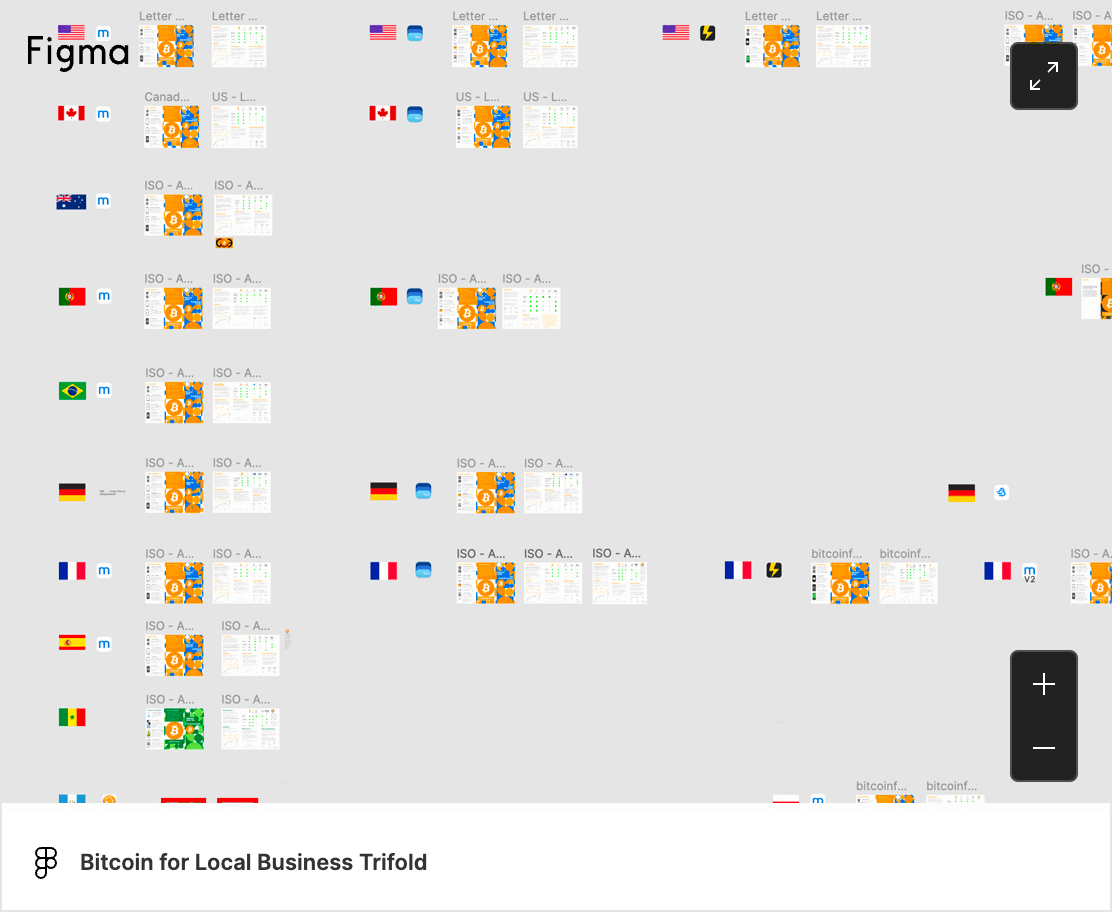 Edit and make it your own
Edit the Figma project and download both sides
Merge both PDFs
Print 2 sides (duplex) on the long side.
Fold in 3 using the lines on the front
Trim excess for a more refined look (optional)
Join the campaign
Don't just wait for adoption, go forth and spread it.
@pedromvpg https://t.co/pmZqrYeNHU pic.twitter.com/1EArTgF8k1

— Huberto Leal - EU USO BTC (@euusobtc) February 20, 2023
Selling hoodies with @BtcpayServer pic.twitter.com/UzRHuidkB6

— Warlord Brinkie Noderunner 13%er ☣️ (@onthebrinkie) January 18, 2023
🔼 Hoje foi dia de dar uma pequena contribuição para o #BitcoinForlocalBusiness.

Agora disponível para Blue Wallet em PT-Br

Site do projeto que contém o Figma da arte.
- https://t.co/OMBnbsq0VX

+ pic.twitter.com/WUcxwy4jGL

— Base Bitcoin ⚡ (@basebitcoin_) February 1, 2023
Por experiência própria, vale bastante 👍
Fortaleça tem está perto de você e terá grandes frutos

Aqui você encontra e ajuda a editar, ideia do @pedromvpg https://t.co/qhi2wNTRj4 pic.twitter.com/KnK3CVN7oD

— TULIOrn (@tuliorn) January 22, 2023
Celebrate #bitcoin genesis by giving more people the access to information. Now available in Mandarin Chinese.

Download, edit, and fork at https://t.co/XHNLw3dpb0 pic.twitter.com/lrTWMAsbln

— Pedro 🧨 (@pedromvpg) January 3, 2023
Trying Orange Pill 💊 Where I Get My Car Work Done At #Bitcoin #OrangePillArmy pic.twitter.com/yWWqsWloKg

— Bitcoin For The Hood (@HoodBitcoin) January 12, 2023
Bitcoin pamphlet I tweaked. pic.twitter.com/UUIiLxZ38a

— NZ Bitcoiners (@NZBitcoiners) September 30, 2022
Kumpel: Du machst doch da irgendwas mit Bitcoin, und kennst Dich doch aus, oder …?

Antwort: Naja, so bisschen … Ja. Wieso genau?🤔 pic.twitter.com/0PlPdnp6cq

— Karsten__79 ⚡️∞/21M⚡️ (@kl61279) November 30, 2022
I don't know, is there something else we need to do to show how much we are focused on #Bitcoin?
@stacyherbert @saylor @Excellion @skwp @GaloyMoney pic.twitter.com/sUqVheKmRF

— Bitcoin Lake - Official 🇬🇹🍊💊⚡️ (@LakeBitcoin) August 2, 2022
Fantastic morning @SuffolkJungle with some fantastic company @PrinceySOV @nathan_day @Bridge2Bitcoin @foolednolonger buying drinks using @BTC_Checkout Bolt ⚡ card and having new material to consume - the chapter on education and schooling was 🔥 pic.twitter.com/0oNIPA38g9

— matt (@mattonbtc) July 19, 2022
After todays successful #Bitcoin meet-up, plus taking our first Bitcoin and Lightning payments with @CoinCorner, we have now renamed Table 5, Table 21 or "Bitcoin corner" whichever you prefer!👌🏻😂 next meet-up 19th July 🌿@PrinceySOV @Bridge2Bitcoin @BitcoinEventsUK pic.twitter.com/Lxl6TrEoO5

— The Suffolk Jungle Room (@SuffolkJungle) July 5, 2022
https://t.co/Gm4ObqBOXo pic.twitter.com/GA5EOZjbxt

— Pedro 🧨 (@pedromvpg) July 7, 2022
This weekend we'll be @TheBTCAdventure showing how businesses can benefit from:

* Near 0% transaction fees
* Near instant settlement
* No chargebacks
* Not have to hold #bitcoin

👀 #LNPoS devices, @CoinCorner #BoltCard in action + giving some out, & more free merch!🎉🙌🔥🚀 pic.twitter.com/dEaySCov4k

— Bridge 2 Bitcoin (@Bridge2Bitcoin) July 1, 2022
On prépare quelque chose dans une petite commune près de #Liège #Bitcoin pic.twitter.com/RA7Kh4noaC

— OsyGeni (@OsyGeni) June 25, 2022
Nosotros también. Mire estos hermosos folletos que imprimimos para ayudar a las empresas locales a comprender cómo y por qué deberían aceptar bitcoins como pago. Contenido proporcionado por #BitcoinForLocalBusiness.com #HarlemBitcoin pic.twitter.com/9jtljCrly1

— Harlem ₿itcoin (@HarlemBitcoin) June 14, 2022
Big shout out to @graphictechcorp for printing our brochures. Content provided by #bitcoinforlocalbusiness.com pic.twitter.com/yL1eb6uoFM

— Harlem ₿itcoin (@HarlemBitcoin) June 14, 2022
What an amazing few weeks it has been!

We've been quiet on the Twitter front, but busy behind the scenes, with more to come.

Here follows a few Tweets rounding up some of what we and others in the #Bitcoin and #Lightning space have been up to so far ... pic.twitter.com/S9KpIP9Ogo

— Bitcoin Surrey 🚀⚡️ (@BitcoinSurrey) June 13, 2022
We just made this free Info Flyer for visitors of our #Bitcoin Info Point.🤩#Bitcoin explained on 1 Page! 🔥

We forked it from https://t.co/XapOmONmsp @EuropeanBTC21 pic.twitter.com/vA74GSWJfI

— Hotel Princess Plochingen / No 1 Bitcoin Hotel (@PrincessPlo) June 12, 2022
Let's spread to local merchants all the magic and advantages of accepting #bitcoin on payments. Just printed some papers from https://t.co/DpcxOfYt48 in portuguese (a lot of translations available). pic.twitter.com/8l0o9rsOPi

— Diogo Lino 🇵🇹 (@DiogoLinoPT) June 11, 2022
A massive S/O to @pedromvpg for the template & to @figma for making it so easy to edit properly 🙏🏾

*this is just a prototype #BitcoinForLocalBusinesses pic.twitter.com/pDBTO5mfBc

— OKIN ⚡️ 🏰 (@OKIN_17) June 11, 2022
Eu acredito nas pessoas, e o #Bitcoin devolve o poder a elas.
Isso é uma boa introdução. pic.twitter.com/WnwdTQLHp4

— tULIO (@tulio_rn) June 8, 2022
First we take the farmers market 👨‍🌾
Then we take the world 🌍

Show up, smile, and spread #bitcoin in your local community.https://t.co/XHNLw3dpb0 pic.twitter.com/duCeWbQqs5

— Pedro 🧨 (@pedromvpg) June 8, 2022
Paying in sats was simple - scan and go.

I also ran in to @elderndiablito, who talks to vendors about Bitcoin every Sunday while he's grocery shopping. We all have him to thank for Shane (and several other vendors!) accepting bitcoin and starting to look more deeply at it. pic.twitter.com/b1S2qDnIZv

— Sidd - #BitcoinTour Harley Rider (@CaptainSiddh) June 6, 2022
Ze gaan nu op de post! Ben alweer door m'n postzegels heen.. 🔥🧡 https://t.co/LrXMZ7hUhC pic.twitter.com/U8dxG0CN5u

— Brrrrrinkie Noderunner (@onthebrinkie) June 9, 2022
Got the flyers printed out. Now to hand them to all my local businesses i use and help them get off fiat! pic.twitter.com/KJZzynMzAK

— TK☣️Ph.Ple₿ (@ToxiKat27) June 7, 2022
Got the Dutch version right here!
I have been handing them out at the Pentecost fair last Monday with @BitcoinBrabant, @BloemBitcoin, @BdGBertdeGroot, @MarnixCroes , @onthebrinkie, @dabloem & @GrauweDakGans.
It was an awesome day full of some hardcore orange pilling 🔥🧡 pic.twitter.com/FAIccI2QEv

— GHOST of WARTIME Limburg3rt (@GhostLimburg3rt) June 8, 2022
It was a great day! 🙏 all for the support. @SeedMint21 @CryptoCloaks @BloemBitcoin @slush_pool @onthebrinkie @einzie @FOUNDATIONdvcs pic.twitter.com/5bJqf0gdxv

— Bitcoin Brabant (@BitcoinBrabant) June 5, 2022
Help your local businesses start accepting #Bitcoin! https://t.co/1bpME8Y7k9

Create, edit, share and teach !⚡️

Make it your own, many languages already exist on the website, you can add more or even customize as per your liking.

Bitcoinize your neighbourhood,town, city etc pic.twitter.com/y1h195ukBz

— European Bitcoiners (@EuropeanBTC21) June 3, 2022
In unserem #Bitcoin Info Point gibt es kostenfreies #BTC Wissen,infomaterial & einen ATM.

Der Raum ist komplett in Orange gestrichen🔥🔥🔥

Es gibt kostenlose Sticker und vieles mehr🤩

Habt ihr Ideen was noch fehlt ? pic.twitter.com/jbD1B6jXmp

— Hotel Princess Plochingen (@PrincessPlo) June 2, 2022
We've created a "Bitcoin for Businesses Brochure" specific to the @BitcoinBeach Wallet. Feel free to download and print for your purposes! #Bitcoin #Guatemala #Bitcoinlake
Thanks to @fabu69420 for his input on this!@GaloyMoney 👀👀https://t.co/0BVnDcAfjm

— Bitcoin Lake - Official 🇬🇹🍊💊⚡️ (@LakeBitcoin) May 27, 2022
Having great success down here at The Yards in Kettering.

Burger Mania is now setup and Accepting #Bitcoin. Paid for my lunch in sats.

Illicit Skate also accepting.

Going to turn this place into a Bitcoin hub.

Watch this space. pic.twitter.com/KXLe9LE0ZJ

— Si⚡️ (@HodlSolo) May 27, 2022
bought steak, eggs & sausages with sats today. Call to action for Chicago bitcoiners: go to the Logan Square Farmers market, shake hands, spend some sats and support our local producers. #ProofofWork @MartyBent @chibitdevs @Chris_Stewart_5 @BOBmeetupCHI pic.twitter.com/4nHazU8Mj1

— dernjacat (@elderndiablito) May 22, 2022
Instant conversion.
Settled with #bitcoin. pic.twitter.com/wDBpO0eII7

— Pedro 🧨 (@pedromvpg) May 20, 2022
At the belly of the beast.
BITCOIN X NYC pic.twitter.com/5Wr4TzeAQy

— Pedro 🧨 (@pedromvpg) May 20, 2022
Look out local businesses. Orange pills incoming! pic.twitter.com/pyVdEw5Pjq

— Asheville Bitcoiners🌱💊 (@AVLbitcoiners) May 18, 2022
h/t @EuropeanBTC21 @pedromvpg

👉 https://t.co/X9vWY6ahWG
👉 https://t.co/uUFsnbhuzG pic.twitter.com/CpYq1ei13T

— Gigi ⚡🧡 (@dergigi) May 15, 2022
Scaling up https://t.co/XHNLw3dpb0 pic.twitter.com/gWb1apR65v

— Pedro 🧨 (@pedromvpg) May 13, 2022
Working through some card ideas (will be similar after few mods)@pedromvpg brochure has right amount of space for card pic.twitter.com/fev5ODkZCv

— TopekaBitcoin (@TopekaBitcoin) May 13, 2022
GO OUT AND TALK ABOUT #BITCOIN IN YOUR COMMUNITY.

Went to a local event last night to talk about bitcoin. Handed out business cards and Bitcoin For Local Business pamphlets and received the following email this morning…

— Gary of House Krause (@GaryRKrause1) May 12, 2022
Bout to go shake some local farmers' hands 🌽🤝💯
Shout out @pedromvpg @MartyBent @ODELL @beefinitiative pic.twitter.com/T6qF0WDsNc

— dernjacat (@elderndiablito) May 8, 2022
The Colony Hotel Caesar Salad tastes even better bought with Sats and a side of 🍊💊

Thanks to @bitrefill for supporting the Palm Beach #Bitcoin meetup.@80jmbrown @nobsbitcoin

Download your pamphlet today! https://t.co/7GvNQuAGx2 pic.twitter.com/o3tyJkMgaA

— Adam G ⚡️₿ 丰 (@CertaintyShow) May 6, 2022
Bitcoin for Local Business Initiative Launched

- printable pamphlets to provide to local merchants who are interested in accepting bitcoinhttps://t.co/34wn6FtNCZ pic.twitter.com/BM9sCMl9D2

— no bullshit bitcoin (@nobsbitcoin) April 21, 2022
Já prontos a serem distribuídos por #Peniche!! Orange pilling incoming... pic.twitter.com/QqUg0Qnzed

— Aceita Bitcoin (@aceitabitcoinPT) April 12, 2022
Testing a "Bitcoin for Local Commerce" pamphlet to help farmers at the market understand how to leverage bitcoin for their businesses. pic.twitter.com/aXhUe6Srgk

— Pedro 🧨 (@pedromvpg) March 26, 2022